New Hisense Dishwasher  HS623E90X
Hisense Dishwasher 15 Plates. Fit everything in one load. With three baskets, you have enough space to stack up to 15 place settings and a flexible interior that can be reconfigured to accommodate larger pots and pans, allowing you to fit more in every wash, saving you time and effort.
At the end of a cycle, the Hisense HS623E90X Dishwasher door will automatically open allowing steam and moisture to release helping you to unload with speed, ease, and with no extra drying.
Hisense Dishwasher 15 Plates flexible with its fold-down tines
The  HS623E90X dishwasher is highly flexible with its fold-down tines in the lower basket. Since the cutlery rack is built into the top, no cutlery basket is necessary in the bottom basket, which frees up space to fit whatever you may need.
To provide additional safety for children, the Hisense HS623E90X dishwasher and its touch panel can be locked, keeping curious fingers from harm.
Anti-flood system
Safely leave your Hisense HS623E90X dishwasher to operate at night or when you're away from home. This anti-flood system will automatically cut off the water supply in case of leakage or flooding and drain the water safely.
Cleverly positioned LED lights enable an overview of the dishwasher's interior, making loading and unloading that much easier.
Durable Inverter motor
The powerful brushless Durable Inverter motor is extremely efficient, providing better cleaning results while saving energy and producing less noise.
Thanks to the inbuilt sensor, the automatic program will automatically adjust the time and temperature to suit the amount of the dishes loaded and the level of their dirtiness, ensuring you always get an optimized clean.
power-off memory function
With the basket handle, you can easily slide the basket in or out, even when it's fully loaded. No need to worry if the power is turned off accidentally during a cycle. Thanks to the power-off memory function, the original washing process will continue where it left off once power is restored.
Hisense Dishwasher 15 Plates  Features:
Efficient Cleaning: With its powerful motor and high water pressure, this dishwasher effectively removes tough stains and grime, leaving your dishes spotless.
Flexible Loading: The Hisense Dishwasher 15 Plates HS623E90X features adjustable racks and removable cutlery baskets, allowing you to easily load dishes of various sizes and shapes.
Intelligent Programs: Choose from a range of intelligent programs tailored for different types of dishes, such as Quick Wash, Eco Mode, or Intensive Clean, for optimal cleaning results.
Quiet Operation: Thanks to its advanced noise reduction technology, this dishwasher operates quietly, ensuring a peaceful environment in your kitchen.
Hisense Dishwasher 15 Plates Energy Efficient:
The Hisense Dishwasher 15 Plates HS623E90X is designed to be energy-efficient, helping you save on electricity bills while minimizing your environmental impact.
Convenience and User-Friendly Design
The Hisense Dishwasher 15 Plates HS623E90X brings you convenience and ease of use, making your daily dishwashing routine a breeze.
Hisense Dishwasher 15 Plates  Large Capacity:
With a generous capacity of up to 15 plates, this dishwasher can handle even your largest dinner parties or family gatherings.
Intuitive Controls: The user-friendly control panel allows you to easily select and customize your desired cleaning program and settings.
Delay Start: Take advantage of the delay start function, which lets you program your dishwasher to start at a later time, ensuring your dishes are ready when you need them.
Easy Maintenance: The stainless steel interior of the Hisense Dishwasher 15 Plates HS623E90X is not only durable but also easy to clean and maintain, providing you with long-lasting performance.
Safety Features: This dishwasher is equipped with safety features such as a child lock and leak protection, providing peace of mind for you and your family.
Sleek Design and Modern Style
Enhance the aesthetics of your kitchen with the Hisense Dishwasher 15 Plates HS623E90X, featuring a sleek and modern design that seamlessly blends with any kitchen décor.
FREE STANDING
Easy To Install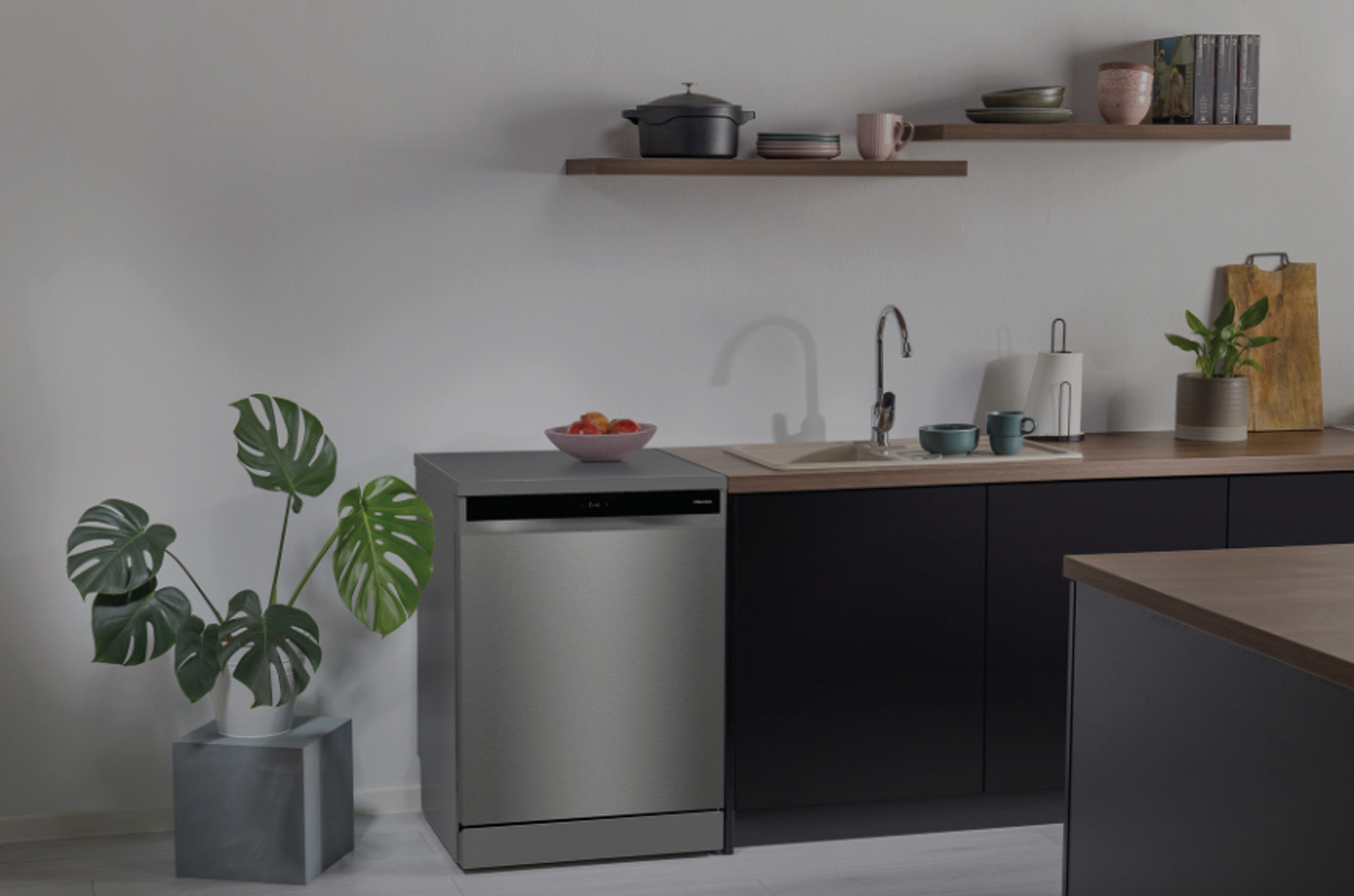 Ultimate washing and drying performance