Hisense Fridge 94 liters
Hisense Fridge REFO94DR 94 liters, single door–Refrigerators are an essential part of your kitchen's daily life because they keep your ingredients fresh.
Basically we rely on refrigerators because they make cooking easier. That is why Hisense has designed the perfect fridge for every simple household; efficient or large-capacity refrigerators that will make all the difference in creating a smooth-running home. Whether you are replacing, upgrading, or simply adding a new refrigerator, www.hisensekenyaregion.com has a wide selection of high-quality Hisense products designed to maximize efficiency in your daily needs.
Hisense Fridge 94 liters
Danby Designer compact refrigerators are designed to be well-built, easy to maintain, and convenient. It has a cooling capacity of 4.4 cu. ft. (124 L), making it ideal for dorm rooms, wet bars, rec-rooms, dens, workshops, and basement lounges. Integrated door shelving with tall bottle storage makes it simple to store extra drinks and snacks. Accessories can be stored on the scratch-resistant worktop, and the unit defrosts itself automatically.
Hisense Fridge 94 liters
 The  product also includes a mechanical thermostat. The reversible door swing and integrated door handle will appeal to both left and right-handed users. This mini fridge is intended to blend in with any décor style.
Adjustable Shelving

Integrated door shelving including tall bottle storage for pops, water and juice bottles.

Ample Storage

Keep all your snacks, drinks and extra's in this 124L 4.4 Cu.Ft. capacity mini fridge. Fits perfectly in living rooms, dorms, small kitchens, bedrooms and basements.

Glass Shelving

Includes 2 full width shelves and 1 1/2 shelf for maximum storage and versatility.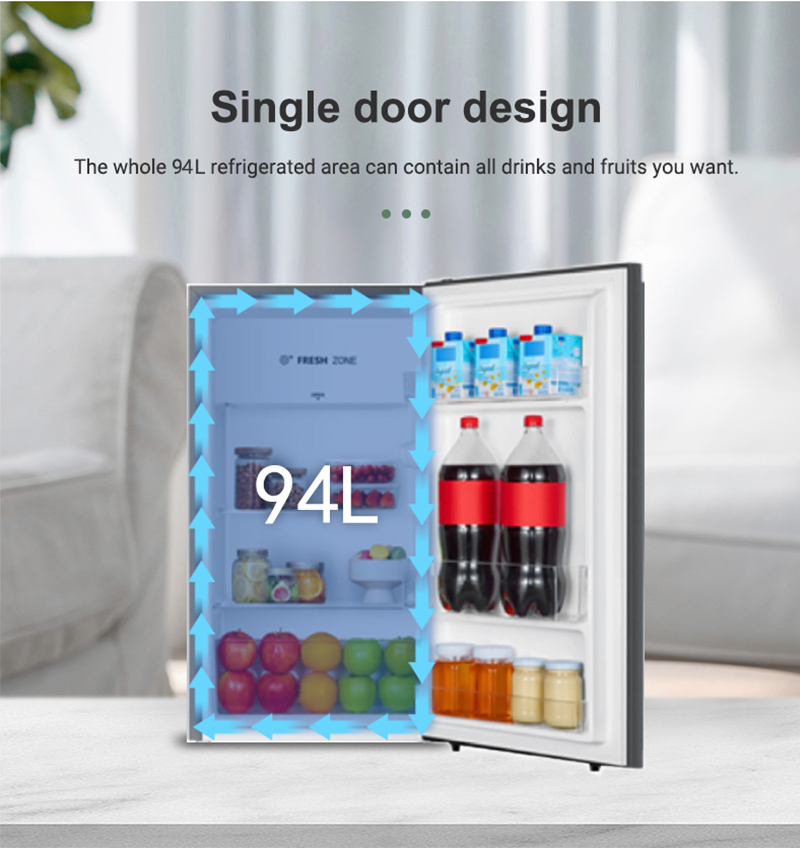 The Fridge comes with a temperature control knob that allows for temperature adjustments based on individual needs or seasonal requirements. The tempered glass shelves are more strong, unlike the plastic shelves. Thus, ensuring maximum security and reducing chances of breakage to the bare minimum